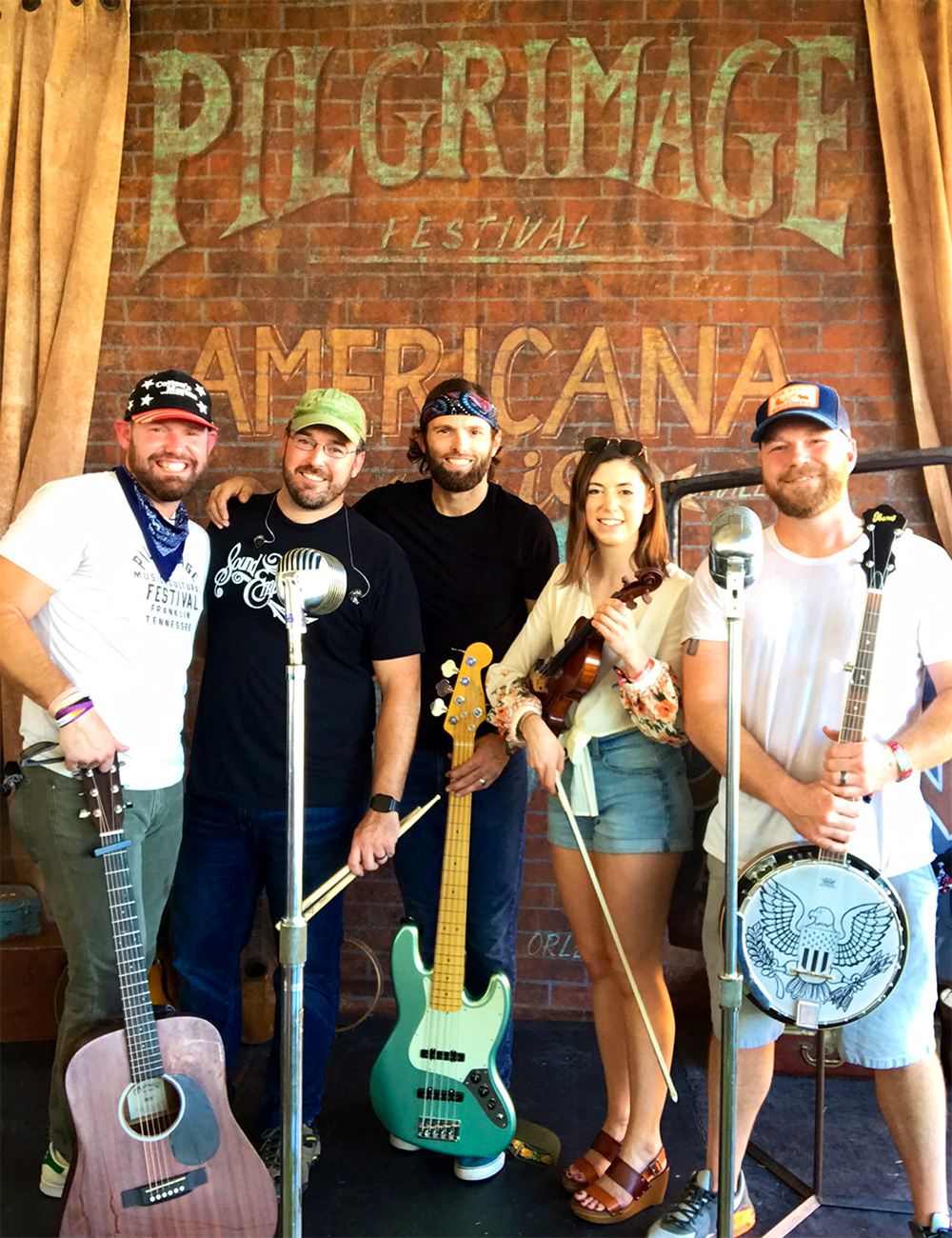 People on the Porch
Jeremy Sayne - Vocals, Guitar
Danny Elson - Vocals, Banjo
David Cloud - Electric Bass/Upright Bass
Becca Wolfe - Violin
Greg McGinnis -Drums
Emerging from Franklin TN, Americana/folk-rock band 'People on the Porch' are becoming a rising force in their local music scene. Gracefully merging genres in a effortless manner, while spreading their message of hope, truth, and love. Band members have inspirations from bands like The Avett Brothers, The Head and Heart, and The Everly Brothers, among many others. Dropping their first full length effort in September 2019, titled 'Gray Line' which was Produced, Engineered, and Recorded by Mike Marsh of The Avett Brothers.
Also, they have released a self-tilted 5 song EP. . They have played shows all over Tennessee, from East to West, hitting some of the hottest live music venues in the state. Also, appearing in the festival scene, from Columbia's Muletown Music Fest, Franklin's PumpkinFest, and the rapidly popular Pilgrimage Music and Cultural Festival. They credit their ever growing fan base, and exposure to the opportunities given to them from The Legendary Kimbro's Pickin Parlor, where they held a monthly residency for over 4 years.
So the story goes.... Back to high school for Jeremy and Danny. The two first met early in their high school days, and became friends immediately. Both had a major love for singing and music in general. Singing Tenor 1 and Tenor 2 in their High School elite singing group known as "Singers", they developed there their tight harmonies. Eventually after high school parted ways for different lives. 10 years later (2013) they reunited, both having families now. Life experiences were shared and talked about ,and emotions high and low were felt. Traumatic, Impressive, Hilarious, are words that best fit. Two years of constant songwriting and arrangement, made for some very emotional driven series of songs that makes you feel alive! Although still very young as a band, when they hit the stage they deliver a powerful live show with an energy that thrills the people in attendance, from all ages new to old! They feel right at home on the porch too.
People on the Porch.